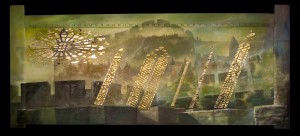 The Amaranthine Museum is a 501(c)3 not for profit organization. As such, we rely on friends such as you to help us to keep the rich and wonderful world of Maximalist Les Harris open and available to the public. We gratefully accept donations thru the link at the right of this page or you can send your contribution directly to:
Amaranthine Museum, 2010 Clipper Park Dr., Baltimore, MD 21211.
Our new space is only half the size. Like Alice shrinking in the looking glass, all of the paintings have somehow been hung, edge to edge into an awe inspiring, overwhelming feast of color. The Museum is still on the property on Clipper Park Drive, but down the walkway, on the back side of the building.
We are excited to move into the future with the work of Les Harris! Although we will not have regular hours, we will be open for groups, special tours, events and rentals.
Email us at amaranthinemuseumbaltimore@gmail.com to join our email list or find us on Facebook to learn of events or to book your own.
Groups are always welcome
Private appointments are encouraged
House Concerts featuring visiting artists
Lectures
Classes in Yoga, Laughter, Dance are building.
Les' work is imbued with theosophical, metaphorical and metaphysical messages. Ultimately, the Amaranthine Museum is conceptual.  His Labyrinthine vision will live on in the individual experiences of his works, in the book we have published and on our website.  In the meantime, we continue to ask for your support as we rely on each contribution (both large and small) to continue to keep our doors open to "Time, Space and Other Dimensions".