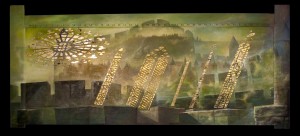 The Amaranthine Museum is a 501(c)3 not for profit organization. As such, we rely on friends such as you to help us to keep the rich and wonderful world of Maximalist Les Harris open and available to the public.
We gratefully accept donations thru the link at the right of this page or you can send your contribution directly to the Amaranthine Museum, 2010 Clipper Park Dr., Baltimore, MD 21211.
The museum is moving!  As many know, we managed to stay in place for one final year, while the Woodberry community shifted and grew.  However, the paintings have now all been taken down in anticipation of a final December move into our new home.  Weather and lease permitting, we will be moving the artwork during the first two weeks of the month.  The new space will be within the Clipper community, the Labyrinth's true home since 1978. It will be a smaller space and we face the brilliant challenge of moving, hanging, lighting, fitting and otherwise embracing an all new vista.   If you'd be interested in volunteering to help with any aspect of the move, please contact us at amaranthinemuseumbaltimore@gmail.com.
While Les' large masterpieces will be hung in the new space, much of the smaller work will be put into storage.  If you are interested in purchasing any of the work, please contact us.
Les' work is imbued with theosophical, metaphorical and metaphysical messages. Ultimately, the Amaranthine Museum is conceptual.  His Labyrinthine vision will live on in the individual experiences of his works, in the book we have published and on our website.  In the meantime, we continue to ask for your support. Your gifts continue to help us keep our doors open to "Time, Space and Other Dimensions".
Sincerely,
The Amaranthine Museum