V. END OF YEAR FUND DRIVE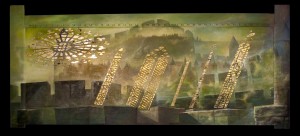 The Amaranthine Museum is a registered 501(c)3 not for profit organization. As such, we rely on friends such as you to help us to keep the Amaranthine Museum vision strong and the works available to the public. Although we love the spirit of generosity, all levels of contribution are true gifts and greatly appreciated. We gratefully accept donations thru the link at the bottom of this page or you can send your contribution directly to the Amaranthine Museum, 2010 Clipper Park Dr., Baltimore, MD 21211.
The Amaranthine Museum is pleased to kick off our sixth annual fund drive!  We have had another busy year with over 1,000 visitors touring through the labyrinth, 5,000 visitors wandering our website and an increasing demand for tours for school and special interest groups. Additionally, we have successfully self published nearly 100 copies of our book LES IS, exhibiting the full labyrinth in print.  They are available in two sizes and can be ordered for pickup by pressing the Donate button below.   There will be a place for comment after you order. At that point, please leave us a note as to the size and number of copies requested. Prices do not include postage.
$65 – 8.75" x 11.25"
$125 - 11.5" x 15"
Thank you for your continued support!